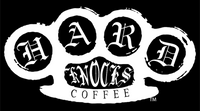 Hard Knocks Moto Coffee
Hard Knocks Moto Coffee, founded by motorcycle industry veteran - Allan Lane, offers moto-inspired coffee roasts and merchandise that uniquely embraces the motorcycle lifestyle and the passion possessed by those that ride. Fresh, colorfully titled roasts are available in whole bean, standard ground, espresso as well as coffee pod options, and can be ordered online at www.hardknocksmoto.com and shipped direct to you.
Life is hard, Be harder than life. Hard Knocks Moto Coffee. www.hardknocksmoto.com.
Shop